Manchester City Most Expensive Signings Ever 2022
Manchester City Most Expensive Signings ever? Which Manchester City Football Club signings have been the most expensive? Here we look at the Top most expensive Manchester City signings ever! Is it Ruben Dias? Or is it Erling Haaland? Who will Man City sign in the January – Kane or Bellingham? Watch & Bet Here =>

Manchester City most expensive signings ever – Kevin De Bruyne
Kevin De Bruyne plays as a midfielder for Manchester City and is an integral part of the club. What is Kevin De Bruyne Net Worth? Born in Belgium, his first taste of professional football came while he was at Genk, and there he went on to win the 2010–11 Belgian Pro League.
He was at Chelsea for a short while before he signed with Wolfsburg. And in 2016, Kevin De Bruyne joined Manchester City as the midfielder. He is famed for his excellent tackling, dribbling and shooting skills and is becoming one of the finest players Manchester City has day by day.
Manchester City most expensive signings ever
Manchester City most expensive signings? Here we take a look at who are the Manchester City most expensive signings ever as of 2023.
Player
Age When Signed
Season
Joined From
Fee
Jack Grealish
25
21/22
Aston Villa
£105.75m
Left Winger
 Premier League
Kevin De Bruyne
24
15/16
VfL Wolfsburg
£68.40m
Attacking Midfield
 Bundesliga
Rúben Dias
23
20/21
Benfica
£64.44m
Centre-Back
 Liga NOS
Riyad Mahrez
27
18/19
Leicester
£61.02m
Right Winger
 Premier League
João Cancelo
25
19/20
Juventus
£58.50m
Right-Back
 Serie A
Aymeric Laporte
23
17/18
Athletic
£58.50m
Centre-Back
 LaLiga
Raheem Sterling
20
15/16
Liverpool
£57.33m
Left Winger
 Premier League
Rodri
23
19/20
Atlético Madrid
£56.43m
Defensive Midfield
 LaLiga
Erling Haaland
21
22/23
Borussia Dortmund
£54.00m
Centre-Forward
Bundesliga
Benjamin Mendy
23
17/18
Monaco
£51.75m
Left-Back
 Ligue 1
John Stones
22
16/17
Everton
£50.04m
Centre-Back
 Premier League
Kyle Walker
27
17/18
Spurs
£47.43m
Right-Back
 Premier League
Leroy Sané
20
16/17
FC Schalke 04
£46.80m
Left Winger
 Bundesliga
Bernardo Silva
22
17/18
Monaco
£45.00m
Right Winger
 Ligue 1
Kalvin Phillips
26
22/23
Leeds United
£44.10m
Defensive-Midfield
Premier League
Most expensive Manchester City signings ever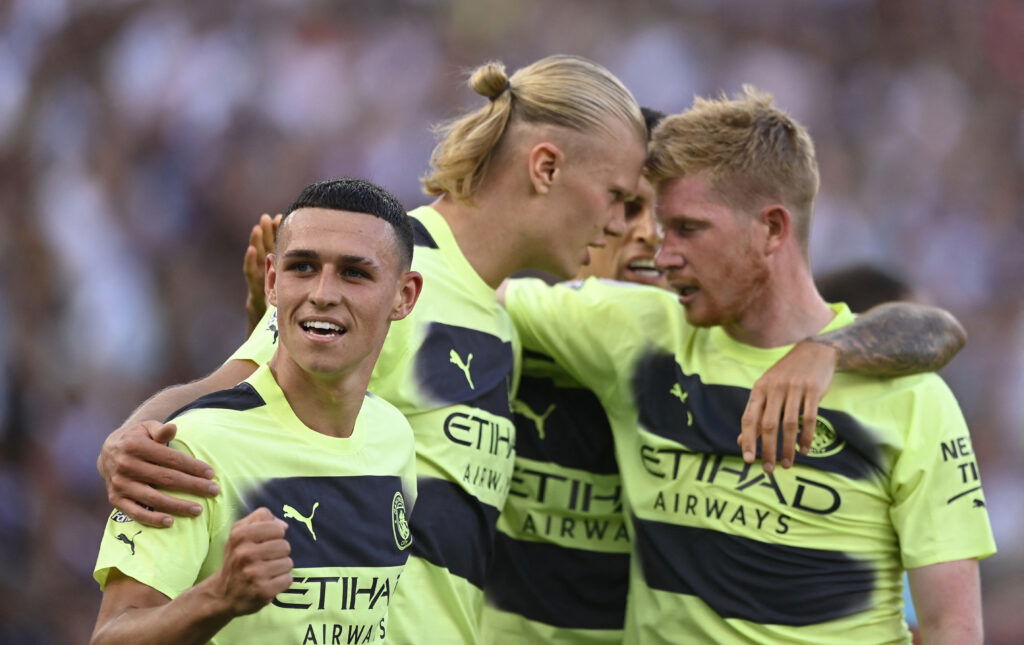 Manchester City most expensive player ever? Which players do you think is the most expensive in history of Manchester City? Watch & Bet Here =>
Transfer fees have been a bit crazy in the past few years. Paul Pogba going to Manchester United for £100 million and Neymar to PSG for £200 million have been extraordinary. There was also the transfers of young players like Kai Havertz.
So, with the recently inflated transfer market values- which players have been signed by Manchester City for massive fees?
In 2021, Manchester City signed Jack Grealish from Aston Villa for £105 million. It had made Grealish the most expensive signing ever at the club. Is it still the same?
Manchester City Transfer 2023: Manchester City most expensive signings ever
Let us now see who all have City broken the bank over this summer. Ruben Dias has been Man City's biggest signing for the season.
Here are the signings for the 2022/23 campaign!
| | | | |
| --- | --- | --- | --- |
| Player | Age | Season | Left |
| Erling Haaland | 21 | Bor. Dortmund | £54.00m |
| Kalvin Phillips | 26 | Leeds | £44.10m |
| Manuel Akanji | 27 | Bor. Dortmund | £15.75m |
| Sergio Gómez | 21 | RSC Anderlecht | £11.70m |
| Stefan Ortega | 29 | Arm. Bielefeld | free transfer |
City needed a defensive cover and buying Ruben Dias was an incredibly smart decision for the Cityzens – although he became the club's most expensive defender surpassing Aymeric Laporte.
Now let us head back to out main man of the moment – Erling Haaland – Manchester City most expensive player
Now that we know that they were expensive to sign, what about their salaries?
Find out about the contract situations of the current City squad!
Manchester City squad contract 2023: Manchester City most expensive signings
| | | | | |
| --- | --- | --- | --- | --- |
| PLAYER | POS. | AGE | ANNUAL SALARY | WEEKLY SALARY |
| Kevin De Bruyne | M | 31 | £20,800,000 | £400,000 |
| Erling Haaland | F | 22 | £19,500,000 | £375,000 |
| Jack Grealish | F | 27 | £15,600,000 | £300,000 |
| John Stones | D | 28 | £13,000,000 | £250,000 |
| Rodri | M | 26 | £11,440,000 | £220,000 |
| Manuel Akanji | D | 27 | £8,580,000 | £165,000 |
| Ruben Dias | D | 25 | £8,320,000 | £160,000 |
| Bernardo Silva | M | 28 | £7,800,000 | £150,000 |
| Kalvin Philipps | M | 26 | £7,800,000 | £150,000 |
| Ilkay Gundogan | M | 31 | £7,280,000 | £140,000 |
| Aymeric Laporte | D | 28 | £6,240,000 | £120,000 |
| Riyad Mahrez | F | 31 | £6,240,000 | £120,000 |
| Kyle Walker | D | 32 | £5,720,000 | £110,000 |
| Nathan Ake | D | 27 | £4,680,000 | £92,000 |
| Joao Cancelo | D | 28 | £4,160,000 | £80,000 |
| Ederson Moraes | GK | 29 | £3,380,000 | £65,000 |
| Phil Foden | M | 22 | £3,120,000 | £60,000 |
| Julian Alvarez | F | 22 | £2,600,000 | £50,000 |
| Scott Carson | GK | 37 | £1,300,000 | £25,000 |
| Cole Palmer | M | 20 | £700,000 | £13,500 |
| Stefan Ortega | GK | 29 | – | – |
| Sergio Gomez | D | 22 | – | – |

See More: