Top five most overrated Manchester City players in recent history
Most overrated Manchester City players? Who are the Most overrated Manchester City players? Which Manchester City players are the most overrated? We have compiled a list of the top five most overrated players at Manchester City. So which Manchester City players are not as good as everyone thinks they are? Well you're going to find out.
Top 5 most overrated Manchester City players
Many great players have come and gone at Manchester City. Some became legends such as Sergio Aguero and Kevin De Bruyne. While others were just not as good as everyone thought they were. Here is the list of the top five most overrated Manchester City players.
5. Benjamin Mendy – Most overrated Manchester City players
The French left back was brought in from AS Monaco. He was one of the best players in the Ligue 1 campaign when Monaco rampaged their way to the title by beating PSG. It resulted in a bidding war for Mendy and it was City who won that battle.
Pep was desperate for a new left back as he was not impressed with Aleksandr Kolarov. Eventually Kolarov was shipped off to Serie A and Mendy came in. He made a bright and impressive debut at City but was soon on the fringes of the first team action.
It was a result of overconfident play and injuries. A modern footballer needs to be at the top of his physical health to look after his fitness and Mendy while unlucky with some injuries, did not do that on a regular level or a regular basis.
Mendy also failed to adapt to the English Premier League, which was faster and more physical than the French league. It requires players to have more attention at all seconds since games change at the drop of a hat and Mendy was not up to it.
Finally it was also a matter of playing under the system of Pep Guardiola which turned out to be very tough for Benjamin. The discipline and energy levels needed were simply too much for him.
He is still a part of the City contingent and trying to make a regular return to the starting XI, but Pep still doubts him over big matches – a sad situation for a player who was once the world's most expensive full back.
4. Danilo – Most overrated Manchester City players
It was the era of right backs as another right back in Danilo was rushed in by Pep Guardiola. In fact, after Pep Guardiola had arrived, City had the likes of Zabaleta and Kolarov in his team.
Pep did not win any major trophies and while he never directly called anyone out, it was clear that he was not happy with the full back service and wanted an overhaul. And City's Sheikh owners spent a lavish 150 million pounds to bring in Kyle Walker, Danilo and Benjamin Mendy for Pep Guardiola.
While Walker has been a very big hit, we already discussed Mendy has not, and Danilo also certainly left the club as a flop after being overrated by City scouts.
He was not ready for the Premier League level and made one error too many both in defence and in attack. He loved to bomb forward with the ball at his feet but very rarely had the intuition to release it at the right time or with the right pace or precision.
It made him a passenger in most games where City dominated. However, the real problem came when City had to defence in certain matches during certain times. He was not good tracking back and almost always left his man unmarked and unguarded.
He was taken on a trip by Chelsea's Eden Hazard in one match and that revealed exactly how overrated he was. He was benched for long periods which did not do his confidence any good and whenever he came on, he had mistakes in him. He was finally taken off the books in an exchange deal where City invested another 30 million pounds plus Danilo to bring in Joao Cancelo.
3. Gabriel Jesus – Most overrated Manchester City players
While he is considered as a valuable striker, a closer look will reveal that Jesus has missed 10 times the chances of what he has scored. In the national team, he plays with the likes of Neymar and Coutinho who put up chances for him regularly while at City, the likes of KDB and Sterling and Silva (earlier) used to set it up for him on a platter.
Yes one can argue, he is young, however, he has been in England for over two years and is still a massively underperforming player.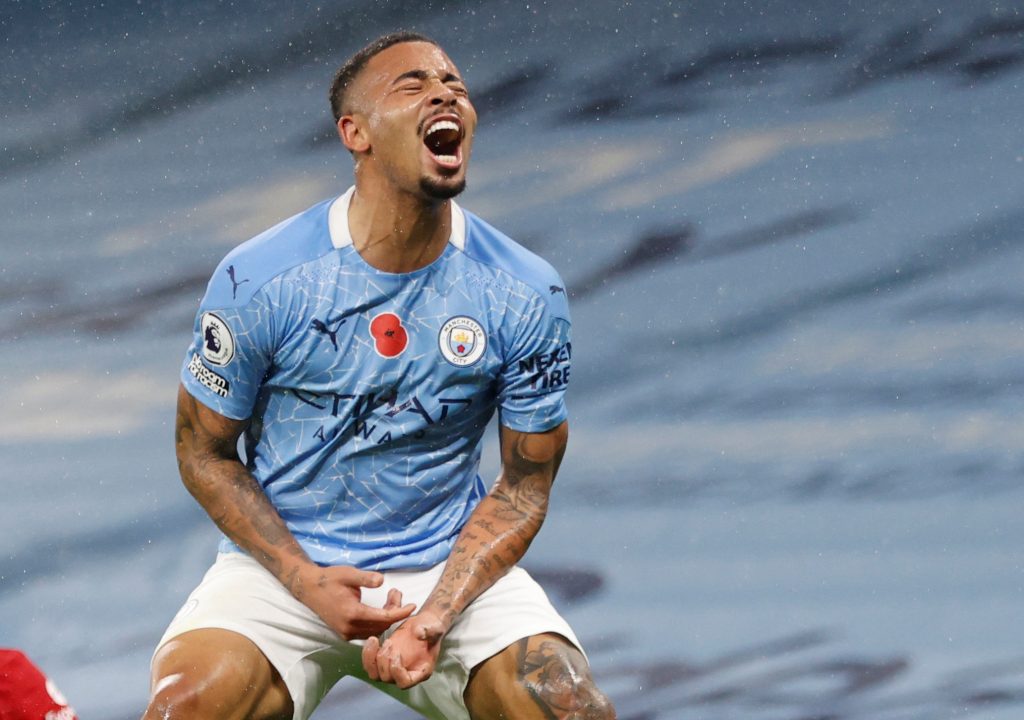 2. Rodri – Most overrated Manchester City players
Brought in to replace Fernandinho, it was never going to be an easy task. However, the Spaniard seems to make his job harder for himself. He definitely does not have Fernandinho's drive to move forward but even while playing small passes or stopping counter-attacks, his quality is nowhere near that of Fernandinho. There is hope he wil lean and get better but he is already 26 and he has to improve fast.
1. Raheem Sterling – Most overrated Manchester City players
We understand this will not be a popular opinion. However, the UK media places Sterling as one of the best wingers in the league and in the top 5 in the world. We definitely feel he is good, but nowhere near the top 10 even in the world. As for Premier League, there is Pulisic, Ziyech, Mahrez, Mane, Salah, Auba, Rashford – who all are in our opinion better than Sterling.
Raheem does produce brilliant numbers but he misses too many sitters and is too shabby in front of goal to be a world class finisher or a winger.
See More:
Manchester City Instagram photos – Man City social media players, squad, team